In my latest homeschool co-op creative writing class, I taught my students about perspective. Who better to help me teach perspective than Pooh Hodges, The Cat Who Writes.
When I first introduced Pooh's blog to my children, Hannah, my 8 year old was a bit skeptical that a cat could write. I explained that he dictates to Mrs. Hodges and that she types for him but Hannah wanted proof. I told Hannah she could ask Pooh how he does it.
Pooh not only answered Hannah's letter, he featured it on his blog.  You can just click on the words "Hannah's Letter" to read that post.
Pooh dictates to his typist Pamela Hodges who has her own blog at "i paint. i write."  In fact that Bold Blue Toilet seat you may have noticed in the side bar of my post is a link to her site as well. When your done checking out Pooh's blog, you should really check her's out as well.
I brought our pet fish, Peachy, to co-op and Peachy's presence really opened up both classes to some great discussions. I had the older class write on their own what they thought Peachy was thinking. The younger class I had tell me what they thought he was thinking. Then we had Peachy write a letter to Pooh. Peachy was in a strange environment and was a bit nervous of his surroundings as you can see in his letter. 
"Dear Pooh,
What's going on here? I am scared in this strange place.
I am hungry. Thankfully my people brought food for me.
If you were to visit our class, please don't eat me.
I want to be friends. Will you send me a letter too?
Have you ever eaten a fish? You wouldn't eat me, right?
Thank you for sharing your story with us.
Love,
Peachy"
I hadn't shared this letter with Pooh yet. You may want to follow his blog to see if he decides to write Peachy back.
Now I want to hear from you. 
Do you understand your pet? Do you find yourself putting words in your pet's mouth? If you don't have a pet do you find yourself talking for any other animals?
Please share. I'm curious how many of my friends do that too.
Check out both Pooh's blog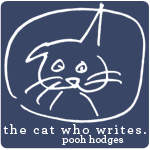 and Pamela's blog
.
And you can find out more about why I have a blue toilet seat on my blog by clicking on this picture.  
Like